Loan against Deposit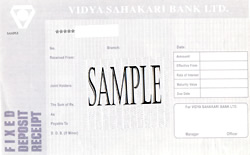 Bank offers Loan / CC facility against its own term deposit Receipts / Recurring Deposit accounts. Generally the rate of Interest on Loan is more than 2% on the rate of Interest offered on deposits. Minimum margin is maintains Depositors can avail loan from any branch.
Proposed borrowers are requested to approach any of our branches.